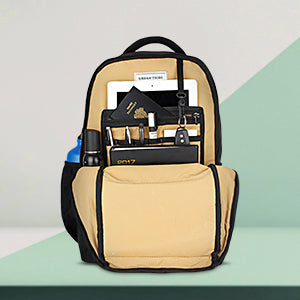 KEEP IT ORGANIZED
Easily access your stationery whenever required from this detailed organizer in the front pocket.
ANTI-THEFT ZIPPERS
These are the little things that make such a huge difference. The little lock, well hidden inside the water bottle pocket helps frustrate the efforts of seasoned thieves, while making it very easy for you to operate. This little device has saved many Trinity owners great heartburn.
WATER RESISTANT LIGHTWEIGHT FABRIC
When it comes to the quality of our fabric, there is no cutting corners, no compromise. Delivering the best quality and durability is part of our DNA. The Polyeuterene coated fabric helps the bag remain stubbornly water resistant while remaining exceedingly lightweight.
RIDE READY BACKPACKS
Trendish design to rock the road and set eyeballs blazing. All our backpacks are cut to look great on your two wheeler and built tough to last the rough ride!