From the creator:

For over 4 years, Urbantribe has been the preferred backpack of choice for smart people. The Urbantribe bag stands for inspired,innovative and functional thinking where every bag is thoughtfully designed and stays true to its hyperfunctional persona. Making them sleek, tough, stylish and ready to take on any challenge in todays Urban jungle.
At Urbantribe, our design is constantly evolving to reflect the latest trends and our tribes' ever-changing needs. Every piece of Urban Tribe is thus not only smart and functional but also an extension of the consumer's personality.
 Lets go with your best travel buddy… Amigo !
Any outing is an adventure when you have your AMIGO by your side. With an extra large room to pack for a weekend adventure yet smart enough for your friday dressing, AMIGO is your best travel buddy … for work or fun !
ALLROUNDER AMIGO !
 Multiple carry styles, Padded back for sweat free travels, hideaway waist harness, ultra smart compartments to keep everything organized and give you easy access when you need them, anti-theft zippers, high security reflective straps and loops for carabiners, super lightweight construction and premium weatherproofed fabric makes it your best friend to hit the road and take on any adventure life throws at you. AMIGO is that perfect all-rounder you have always wanted !
SMART features !
 PERFECTLY ORGANIZED COMPARTMENT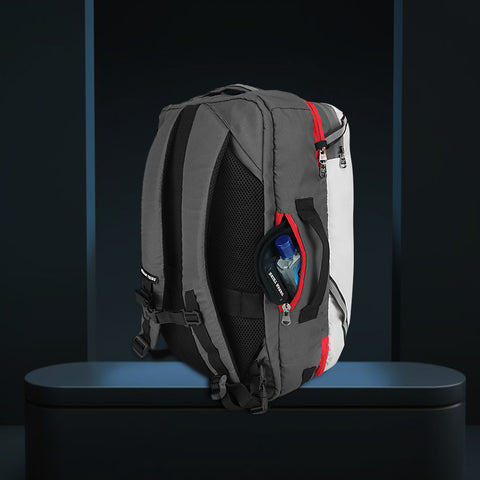 PACK FOR AN ADVENTURE
 PADDED SHOULDER STRAPS WITH CHEST LOCK
Amigo comes with a unique side opening Laptop compartment which extra secures it. It has a smart and well organised separator on the inside, which helps you pack your clothes and shoes neatly.
its euipped with Anti-theft zippers, small zipper pocket, Carabiner lash-loops, Padded Shoulder straps ! Truly a Bagful of features !
ONE COMPARTMENT AT FRONT FOR YOUR CHARGER,DIARY,KEYS ETC.