Loco Myst is a beautiful train-shaped humidifier that houses an ambient night light & an aroma diffuser. Designed thoughtfully with special attention that balances the locomotive design with a modern minimalist touch in a premium ceramic finish.
It is sure to add a touch of finesse anywhere it's placed. imitates a retro locomotive by releasing humidified air from the steam exhaust along with ambient lighting and hyper-realistic choo-choo sound.
Add a few drops of essential oils & play relaxing tunes & have a perfect ambient setting to uplight your mood.
CUTE TRAIN-SHAPED HUMIDIFIER WITH AROMA DIFFUSER
Locomyst adopts a premium yet retro locomotive design with a premium ceramic finish.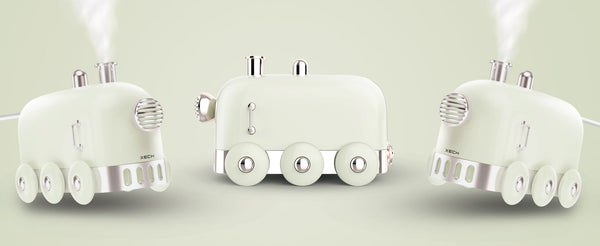 HYPER-REALISTIC STARTUP SOUND WITH AMBIENT LIGHTS
You will hear a hyper-realistic 'Choo-Choo' sound with a train whistle, every time you turn the Locomyst on reminding you of the nostalgic train rides we had as kids!
INTELLI-SPRAY TECHNOLOGY FOR OPTIMUM HUMIDIFICATION
Locomyst uses a unique hi-frequency atomiser with Intelli-spray technology. This allows you to have optimum humidity in your home office or bedroom.
CONVENIENT USB-C POWERED
The locomyst humidifier comes with a USB-C power cable that delivers the right power. This optimises energy consumption.
LARGE CAPACITY TANK
The Locomyst train-shaped humidifier comes with a 350ml capacity tank that allows it to function non-stop for 4 hours. Add a few drops of essential oils & you have the perfect setup for a relaxing and zen-like evening!